International Music Festival 10 , abbreviated as IMF 10 will be the tenth edition of the International Music Festival. The contest is hold in Poland after the victory of Christina Perri with her winning song Human coming first with 244 points, followed by

San Marino and

Switzerland in third.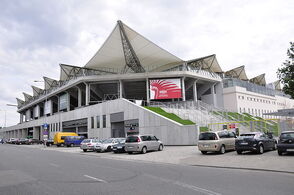 The Pepsi Arena is a football stadium in Warzwaw. For the International Music Festival , a roof is built over the stadium. Due to the stage and background rooms, the max. capacity of 31,103 was taken down to 26,000, being one of the biggest IMF venues to date though.
Warsaw, known in Polish as Warszawa ([varˈʂava] ( listen); see also other names), is the capital and largest city of Poland. It is located on the Vistula River, roughly 260 kilometres (160 mi) from the Baltic Sea and 300 kilometres (190 mi) from the Carpathian Mountains. Its population is estimated at 1.711 million residents within a greater metropolitan area of 2.666 million residents, making Warsaw the 9th most populous city proper in the European Union.The area of the city covers 516.9 square kilometres (199.6 sq mi), while the city's agglomeration covers 6,100.43 square kilometres (2,355.39 sq mi). Warsaw is an Alpha– global city, a major international tourist destination and an important economic hub in East-Central Europe.It is also known as the "phoenix city" because it has survived so many wars throughout its history. Most notably, the city had to be painstakingly rebuilt after the extensive damage it suffered in World War II, during which 85% of its buildings were destroyed. On 9 November 1940 the city was awarded Poland's highest military decoration for heroism, the Virtuti Militari, during the Siege of Warsaw (1939). Warsaw is known as the city of palaces, royal gardens and grand parks. Many aristocratic residences and mansions are located near the city center. The Warszawianka is widely considered the unofficial anthem of the city.
Semi-final and Grand Final allocation draw
Edit
Semi-final DrawEdit
The Semifinal draw took place on March 21. All countries except the Big 6 got dividied into 8 pots.
| Pot 1 | Pot 2 | Pot 3 | Pot 4 |
| --- | --- | --- | --- |
| | | | |
| Pot 5 | Pot 6 | Pot 7 | Pot 8 |
| | | | |
Running OrderEdit
Participants
Edit
Returning artistsEdit
Confirmed participants
Edit
Semifinals Edit
Semi-Final 1 Edit

Spain and

Iceland will vote in this Semifinal.
Semi-Final 2 Edit

San Marino and

Germany will vote in this Semifinal.
Semi-Final 3 Edit

Poland and

Denmark will vote in this Semifinal.
FinalistsEdit
Voting and spokespersons
Edit
References
Edit
Community content is available under
CC-BY-SA
unless otherwise noted.